No results were found for the filter!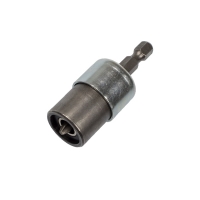 Depth Stop - Screw Coupling HELFAST SD-2 + Bit!
Depth Stop Screw Coupling incl. magnet and bit! TECHNICAL DATA: Sinking depth: ~0,8mm Bits included: 1x PH2 Magnetic ring: included APPLICATION: Just clamp the SD-2 in a common drilling machine or cordless screwdriver and the perfect...

5,0x60, wood screw, TX25, galvanized, 200 pc.
Loose wood screw / chipboard screws, galvanized with Torx drive. Sale of remainders at a special discount!!! TECHNICAL DATA: Antrieb: Torx 25 diameter: 5.0 mm screw length: 60 mm material: steel, hardened, galvanized Bit: Free bit in...